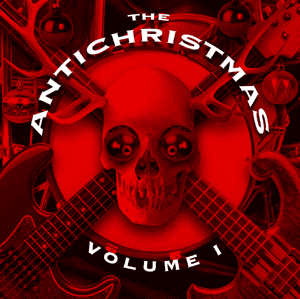 The Antichristmas - Volume I
A Heavy Metal Parody Of Ancient Yuletide Carols
by the World Metal Alliance
(Audio CD) 18 Tracks • 51.3 minutes
Track Listing:
1. Of None Effect
2. Dark! Tradition In Full Swing
3. Beware
4. Spoiled Children Watch The Sky
5. With The Axe
6. O Dead Pine Tree
7. A Book That Is Sealed
8. Check The Balls
9. Turned Unto Fables
10. Some Red Clad Bearded Rental Men
11. Seven Vials Of Wrath
12. Woe To The World
13. Hark! The Herald Angels Sing
14. Angels We Have Heard On High
15. O Christmas Tree
16. Deck The Halls
17. God Rest Ye Merry Gentlemen
18. Joy To The World
The Antichristmas - Volume I
is a Heavy Metal Parody of Ancient Yuletide Carols and Christmas Traditions. While this is not the first Metal Christmas album ever produced, it is the first of it's kind (as far as we know). As the title suggests, this album is anti-christmas in every sense of the word - in musical style, lyrical content, metal viewpoint and anti-traditional message. This album takes select ancient yuletide carols, all from the public domain, and gives them new meaning with a metal approach to the music as well as the message. Each tune has been "metalized" with arrangements spanning several metal genres and styles without altering the melody of the original. New lyrics have been written that parody each ancient song as well as the entire holiday with a scrooge-like mentality. And, in classic metal fashion, each song is paired with and proceeded by a dark musical introduction using a corresponding selection from the Ancient Text to set the stage and clarify the underlying hypocrisy of many long standing Christmas traditions.
6 BONUS TRACKS: "Extended Christmas Ball Hanging Instrumental Remixes"
For those who aren't really anti-holiday and to pay tribute to the original composers (which may or may not be turning in their graves) all six ancient carols parodied on this album have been remixed and included as instrumental versions bearing their original titles and are included at the end of this first release.